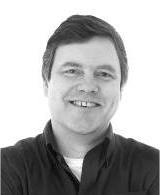 Roger Rowland
PhD MSc MBCS CITP MIAP
Roger has more than 30 years experience in the IT industry and currently specialises in software development in Microsoft environments. Before establishing RMR Systems Limited in 1997, Roger worked in a variety of technical and managerial positions with employers from a range of industries, including; manufacturing, stock control, accounting, and container shipping. In addition to conventional software development consultancy, Roger has spent many years engaged in computer-related research, covering medical imaging, endoscope modelling, gesture recognition and augmented reality. He has recently completed a PhD degree with the
University of East Anglia
in Norwich, UK. Roger has authored or co-authored a number of academic papers as well as books and magazine articles. Full details of all
publications
are available from the resources area of the web site.
Recent projects and publications
Current projects include the development of a client-server management reporting system using C#.NET and SQL Server, development of a specialised Excel add-in for generating and analysing cash flows for property investment valuations, re-development of a membership-restricted ASP web site including online ordering and bulletin board features, and ongoing enhancements to our latest medical imaging products.

In association with one of our partners, Azura Group Limited, we have developed a number of user-friendly graphical interfaces to the TaskForce resource management product marketed by Vidus. The front-end applications were written in VB6 and communicate to TaskForce via an XML-driven CORBA interface and ADO to an Oracle database.

Implementation of a number of financial modeling functions into a platform agnostic module for use via desktop application (Excel add-in), web-based front end (ASP.NET) or XML web service. Development of prototype ASP.NET web client.

Professional memberships and associations
Roger is a professional chartered member of the British Computer Society, a Member of the Institution of Analysts and Programmers, a member of the IEEE Computer Society and belongs to the Professional Contractors Group.